Intours DMC Slovenia awarded Travelife Partner and Slovenia Green Travel Agency
Taking care of the surroundings is a basic need of every human being. It is not a new-age invention but an inherent requirement to maintain a healthy lifestyle and a positive self-image. We are very keen on doing that in our personal everyday life, arranging our apartments, avoiding unnecessary things to pile up around us, taking care of our physical and mental fitness, and choosing our friends wisely. These are all good and important actions that make our lives better. But there is a broader picture we have to take into consideration.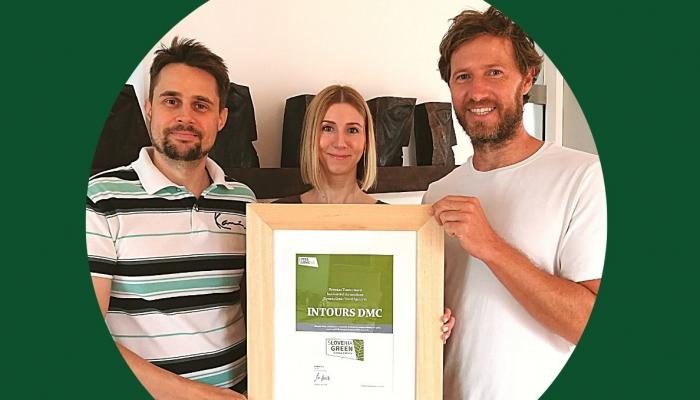 In tourism, we must push for more sustainable business models, working hand in hand with the local communities and in symbiosis with nature, hence bringing the best experience possible for our clients here and now, and at the same time preserving that same experience in all its authenticity and fullness for the future visitors.
We at Intours DMC Slovenia are privileged to work in a country that has a pristine connection between people and nature in its DNA, and the same goes for our team. Through our work, we try to thoughtfully promote and present the symbiosis between nature and the local people that makes our country a very special place to visit.
Among sustainability incentives that we undertake in our work are: promoting and encouraging the clients to take ecological, local activities that represent the rich cultural heritage of the destination, while preserving the natural wealth we have been bestowed; favouring the local suppliers that offer sustainable local products, buying local and sourcing workers locally; striving for long-term collaborations will all our suppliers and partners.
Whereas in our office everyday we act with the future generations in mind by: commuting to work on foot, by bike, or utilizing public transport; environment-friendly purchasing and thoughtful consumption of all goods; minimizing water consumption and food waste, avoiding printing and laminating, keeping the use of lighting to a minimum, etc.; cultivating quality relationships with our colleagues through honest, respectful, and fair communication.
Our efforts towards sustainability have been awarded two certificates this year – the Travelife Partner and Slovenia Green Travel Agency, reinforcing our commitment to creating green and sustainable programs, and act responsibly at work as well as in our private lives.
Finally, traveling responsibly is a choice we all need to make. We at Intours DMC Slovenia care about our land and we invite you to visit it. Experience its natural wealth, colourful traditions, regionally diverse gastronomy, and hospitality of local people – all in a responsible way that will preserve the richness and greenness of the destination also for generations to come.